We'll bet that nearly every man has, at some point, questioned how they measure up. Here at Moorgate Andrology, men come to us in their droves, self-conscious about the size of their penis and whether it is normal in comparison to others. The important thing to note about penis size though, is that neither length nor girth have been proven to affect fertility, although there has been some debate about this in recent years. So, to avoid taking drastic action too soon, be sure to read our post first, you may be surprised by some of the findings…
What is the average penis size?
Men often feel their penis is smaller than average – after all, we're all our own worst critic! However, most men are pleasantly surprised when they find out the global average penis size.
A 2015 study shows that a flaccid penis is on average 9.16cm (3.6in) in length, whilst an erect penis comes in at 13.24cm (5.21in) in length. This is often much smaller than we're led to believe. So, if you're a fully grown adult and your penis is around this length, then there is no need to worry about being below average.
Penis size by country
To delve into this a little deeper here at Moorgate Andrology, we have researched the average male penis size by country, to see how the British stack up against other nationalities.
Unfortunately for Brits and the Irish, the average penis size when erect ranks as one of the lowest, sized at 13.13cm and 12.78cm respectively (see infographic below). The USA is a little further up the list at 13.58cm, with Australia coming in at 14.46cm.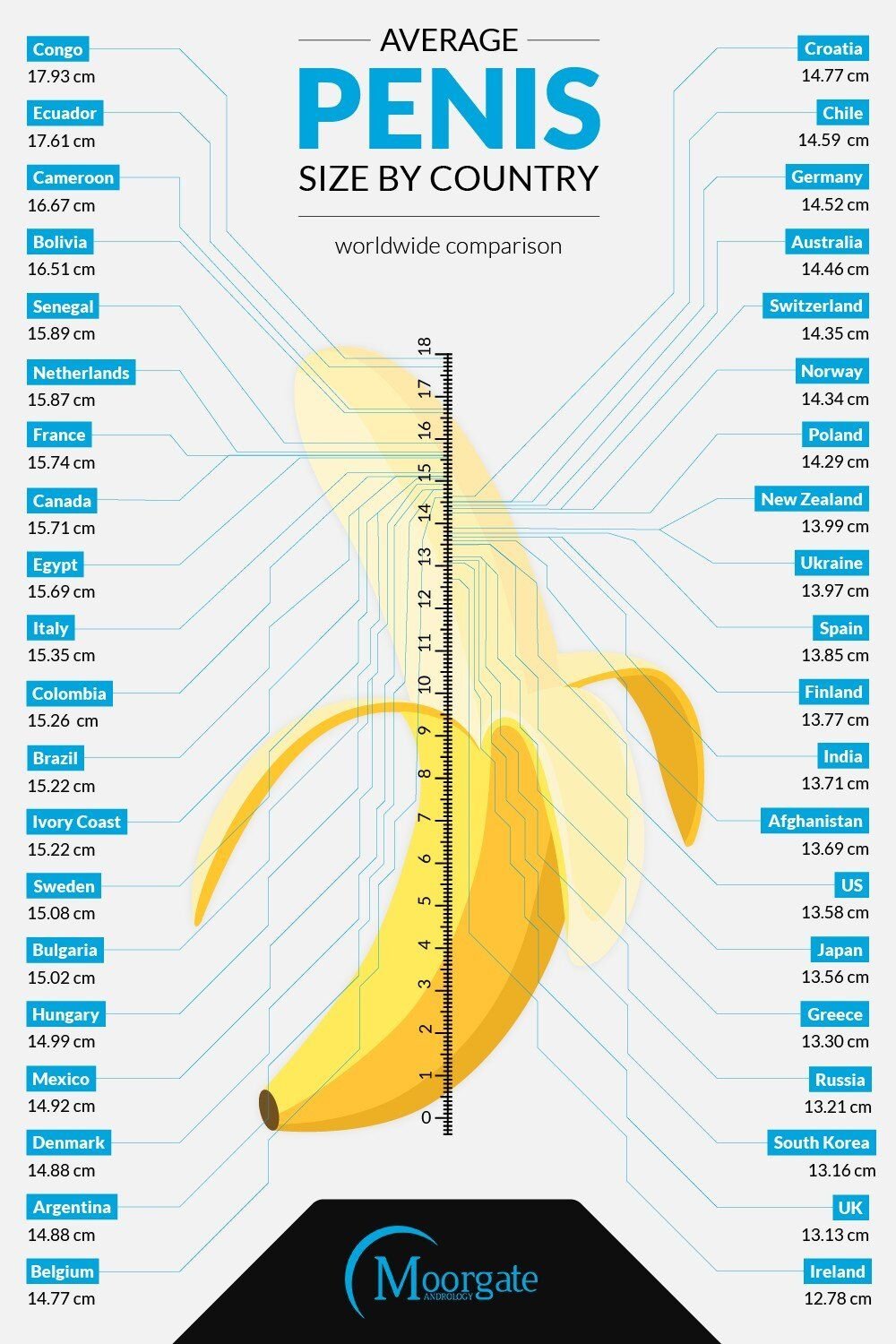 The European country with the longest penis size is the Netherlands, with an average length of 15.87, with Cameroon taking the bronze medal and Ecuador the silver with 16.67cm and 17.61cm. But the nation taking gold for the longest average penis size is the Congo, coming in at a whopping 17.93cm!
Should I consider penis lengthening surgery?
When reading about average penis size it can be easy to become worried that yours is too small (or too big!). If you feel like your penis is substantially different to the norm, and it's causing you distress, then it may be time to contact our team of expert andrologists to see if you could benefit from penis enlargement surgery or penis reduction surgery.
You can talk with our team in complete confidence, safe in the knowledge that we will always deliver the best possible results.
What about girth?
Of course, penis size is not just about length. The circumference of the penis (the girth) is also an area that can cause worry. According to the same study, the average size of penis girth when flaccid is 9.31cm (3.66in) and 11.66cm (4.59in) when erect. With this measurement being pretty similar worldwide, cases of extreme sizes – either big or small – are quite rare. However, if you feel like you would benefit from penis girth surgery, then be sure to contact our experienced team here at Moorgate Andrology, for advice and support.
Contact us
If you are concerned about your penis length or penis girth, why not arrange a consultation with one of our experts? With over 35 years' industry experience, we are a reliable source of information as to whether this surgery is right for you. Our experienced surgeons are some of the best in the business and will treat your case with the respect and dignity it deserves.
Book a consultation now or give us a call on 03308081968. Alternatively, you can email us at info@moorgateandrology.co.uk.